Featured Blogs
"After being diagnosed with any cancer, always get a second opinion to verify and get informed about what you have.  Great resources that I found helpful and reliable are…" Read More »
---
"Hygiene Essentials: PJs, light robe and slippers with rubber soles to prevent slipping. If you're a light sleeper eye mask and earplugs. Toothbrush, toothpaste, deodorant, soap, skincare products, and hair care products if you prefer your own." Read More »
---
"Being diagnosed with any cancer is dreadful. Though what some people might not know, HNC effects the way you drink, eat and speak. Here are some warning signs of head and neck cancer." Read More »
---
"Sunscreen and a sun hat with SUV protection. Here are some of Oprah's stylish sun protection suggestions…" Read More »
---
Alyssa Fischer-Reeder, a tongue cancer survivor shares her experiences & lifestyle advice for people coping with Oral, Head and Neck Cancer. Read More »
---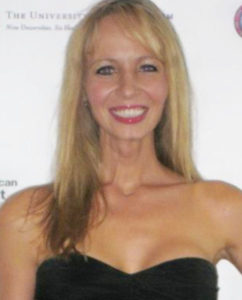 Alyssa Fischer-Reeder
In 2003, at 22 years of age, Alyssa Fischer-Reeder was diagnosed with stage 4 Tongue Cancer. A 14 1/2 hour surgery at Memorial Sloane Kettering Cancer Center saved her life. Following her recovery from treatment, she worked for health-related nonprofits and taught Pre-K. In 2013, she joined Doctor Jatin Shah and Michael Douglas on a radio tour to increase awareness about Oral Head and Neck Cancers which was nominated for a SABER award.
In 2019, she founded The HNC Fund [ Head Neck Cancer Fund]. The HNC Fund facilitates comprehensive financial support for the well-being of one Head and Neck Cancer patient a year. In 2020, Doctor Peter Cordeior, nominated Alyssa for the Patient of Courage Award by The American Society of Plastic Surgeons. Alyssa is happily married and a mom of two phenomenal children. Learn more about the HNC Fund and how you can support this terrific organization.
HNC At a Glance
To help rise awreness for Head and Neck Cancer, the HNC Fund developed "HNC at a Glance" to help educate the genral public. The folowing information was derived from entnet.org

Every 45 min
50% of people with head and neck cancers have very advanced cases by the time they first see a doctor. In the US, a new head and neck cancer case is diagnosed every 10 minutes and a person dies from this disease every 45 minutes.

110,000 Annual Cases
Annually in the US, over 10,000 new cases of Oral, Head and Neck Cancer can be attributed to a particular strain of HPV. Approximately 110,000 people are diagnosed with Oral, Head and Neck Cancer every year in the United States.

Thyroid Cancer
The two most common types of thyroid cancer are called papillary carcinoma and follicular carcinoma. In general, thyroid cancer is one of the least deadly cancers of the head and neck.

HPV
HPV or human papilloma virus appears to be responsible for the rise in cancers of the oropharynx (tonsil and base of tongue) in younger nonsmokers and is related to oral sex.

Salivary cancer
There are several dierent glands found inside and near the mouth. Several types of cancers can start in the salivary glands. Every year there are about 2 cases per every 100,000 people of salivary cancer. The average age that salivary cancer is found is 64.

Environmental
People who work in environments with dust, glues, formaldehyde, mustard gas, certain heavy metals, and radium are at higher risk for developing nasal and paranasal cancer.

Squamous cell carcinoma
The most common type of cancer in the nasal cavity and paranasal sinuses is squamous cell carcinoma. It makes up a little over a half of the cancers. Cancers of the nasal and paranasal cancers are rare; about 2,000 people develop these cancers every year.

Tobacco & Alcohol
Tobacco (including smokeless tobacco) and alcohol use are very important risk factors for oral, head and neck cancers, particularly those of the tongue, mouth, throat and voice box.

Treatment
Because of the location of head and neck cancer, it often affects breathing, eating, drinking, voice, speaking, and appearance. Surgery and radiation therapy are the most common treatments designed to stop the spread of cancer by killing and/or removing the cancerous cells.

6 Percent
Cancers of the head and neck account for 6 percent of all malignancies in the United States.